North Korea has fired another missile over Japan.
Just a day after declaring to "sink" Japan and turn the U.S. to "ashes and darkness", North Korea boldly tested another missile. This is the second time in less than three weeks that a missile has flown over Japan.
The missile travelled 3,700km and reached an altitude of about 770km (478 miles), before landing in the sea off the coast of Hokkaido, Japan.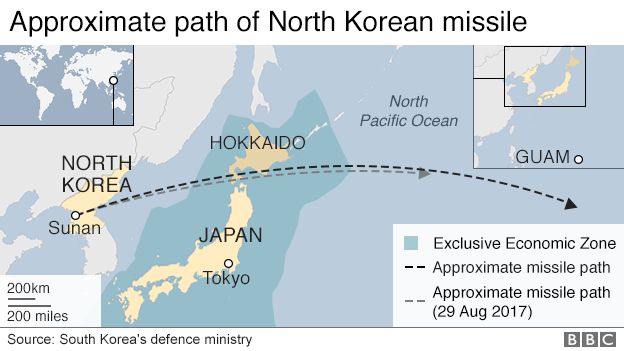 Credits BBC
Immediately, Japanese Prime Minister Shinzo Abe said his country would "never tolerate" such "dangerous provocative action".
South Korea responded within minutes by firing two ballistic missiles into the sea in a simulated strike on the North.
The U.S. condemned such attacks and the UN Security Council will meet later on Friday in New York at the request of the United States and Japan.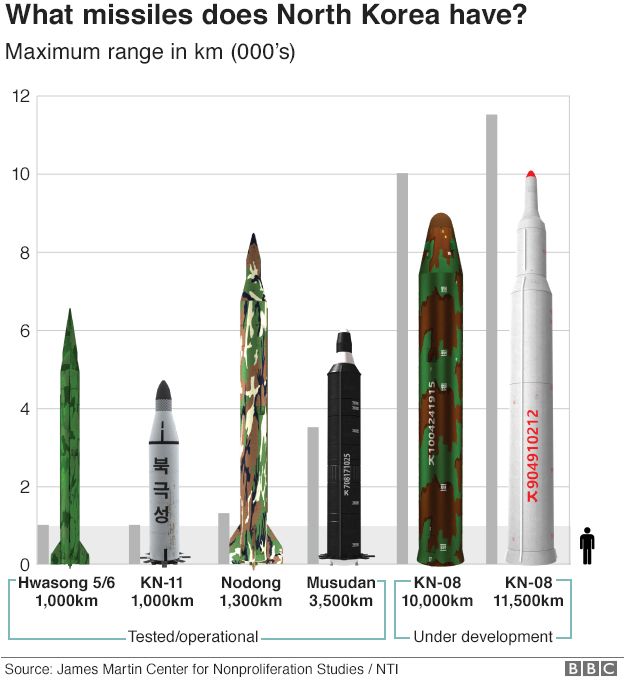 It must be noted that despite severe sanctions and demands to stop, North Korea has been actively developing and testing weapons of mass destruction, and they are getting better at it.
North Korea's most recent nuclear test probably had a yield of 250 kilotons, much higher than official estimates (That's bigger than Hiroshima nuclear bomb). Pyongyang also claims its sixth test showed a hydrogen bomb that could be fitted into a missile.

Credits KCNA/AP
Further more, this newest test showed a missile capable of traveling further than the first, putting the residents of Guam in a questionable situation, what if the next one hits them.