North Korea has been increasing defenses on its eastern coast, South Korea's Yonhap news agency said on Tuesday, in preparation for possible conflict with the U.S.
North Korea has accused President Donald Trump of declaring war and threatens to shoot down any U.S. bombers flying near the Korean Peninsula.
Since Sept. 3, tensions have been on the rise after North Korea their sixth nuclear test. But perhaps an even more threatening situation comes as both leaders exchanged insults and threats.
After the nuclear test, U.S. Air Force B-1B Lancer bombers conducted a military exercise by flying close to the peninsula as a show of force. An unverified report states that the U.S. purposely disclosed the route of the bombers as North Korea seemed unaware of their presence.
North Korean Foreign Minister Ri Yong Ho said on Monday the North's right to countermeasures included shooting down U.S. bombers "even when they are not inside the airspace border of our country".
He also stated, "The whole world should clearly remember it was the U.S. who first declared war on our country," he told reporters in New York on Monday, where he had been attending the annual United Nations General Assembly.

Credits ARIRANG,VOA,MSNBC,FOX NEWS
White House spokeswoman Sarah Sanders denied on Monday that the United States had declared war, calling the suggestion "absurd".
North Korea's nuclear and missile research has been ongoing in an attempt to create a nuclear-tipped missile capable of hitting the U.S. mainland, which Trump has said he will never allow.
Despite warnings from the world leaders, North Korea has continued its nuclear tests in clear defiance. After its sixth test, a new round of sanctions was unanimously agreed upon by the U.N. Security Council.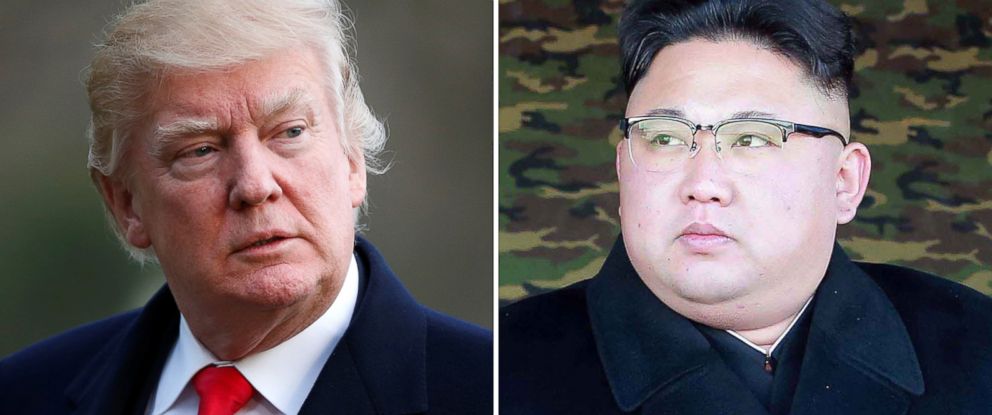 Last week, President Donald Trump threatened to totally destroy North Korea if it threatened the U.S. or any of its allies. Kim fired back by calling President Trump a "mentally deranged U.S. dotard"

Credits Business Insider
China, North Korea's sole major ally, and largest trading partner, has called for calm and dialogue, while world leaders such as U.N. Secretary-General Antonio Guterres said the only solution to the crisis was a political one.