Credits The National
2017 was a scary year for mankind as the North Korean dictator, Kim Jong Un, and the big American bully, Donald J Trump, squared off in a war of words that had everyone on the planet gripping their seats and asking for more popcorn…
With North Korea declaring their advances in missile and nuclear technology, the big bad West began to gather on the border of North and South Korea. Leaders of both sides prepared for what seemed like World War III.

Credits DW
But even as things became more and more heated, underneath it all, a glimmer of hope sprang up in the most unsuspecting way possible. With Pyeongchang being awarded the 2018 Winter Olympics, the South Korean President, Moon Jae-in welcomed Kim Jong Un's apparent willingness to enter into dialogue. With that, South Korea took swift action to get North Korea up to snuff and prepared for the upcoming Olympics.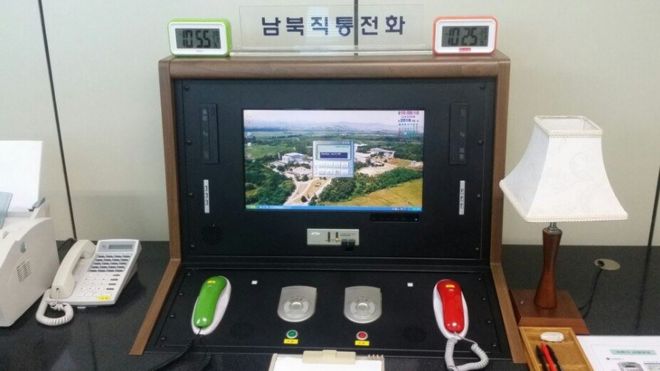 Credits BBC
On Monday, Kim called for peace on the Korean Peninsula and said North Korean representatives should start talks with their South Korean counterparts "as soon as possible" about sending a delegation to the 2018 Winter Games next month in Pyeongchang, South Korea. Kim's remarks "as a response to our proposal to turn the Pyeongchang Olympic Games into an epoch-making opportunity to improve inter-Korean relations and establish peace."
North Korean Leader Kim Jong Un just stated that the "Nuclear Button is on his desk at all times." Will someone from his depleted and food starved regime please inform him that I too have a Nuclear Button, but it is a much bigger & more powerful one than his, and my Button works!

— Donald J. Trump (@realDonaldTrump) January 3, 2018
Even so, it hasn't stopped DJT from stoking the fires… as usual, he hits up the Twitter to unleash volleys of instigative tweets, as if to almost welcome a World War. Please someone shut him up for a second, while the world tries to bring peace upon it.
Whether or not this leads to peace is doubtful, but one can hope and pray for a better and brighter future for our children.